About us
Our story
How a gift for his daughters turned into more than 20,000 swings...
Munich family business delivery swinging fun for young and old, healthy and ill, right across the world
That he would be one day selling designer swings right across the world is something that Munich computer scientist Willy Jörg could never have imagined. This successful model got its start during Jörg's parental leave in the year 2000: Both his daughters had most fun in the playground on swings that had room for several children. The parents searched in vain for something similar for the home. So Mr Jörg began designing his own multi-child swing. After numerous attempts, a prototype was created. Then came the professional realisation of the first models, which attracted increasing attention from friends and acquaintances. Through word of mouth, more and more requests came flying into the house and so in 2003 Jörg set up his own company: die-schaukel.de.

The right swing for every requirement

Since then, Mr Jörg has sold more than 30,000 swings. The Munich swing manufacturer is anticipating annual growth of 30 per cent. Requests come from all over the world. A sheik from Dubai once pressed several thousand dollars into the proprietor's hand and asked him to deliver a couple of swings. The secret of his success? "Swinging is beneficial for body and soul, for young and old, the healthy and the ill. We have the right swing for every requirement", explains Mr Jörg.

TÜV-certified fun
Elegant and colourful, whether one or two colours, each model strikes a trendy note. The swings are TÜV-certified and can withstand enormous stress. They are manufactured using low maintenance, machine-washable ripstop bands, a soft and robust foam, a secure suspension system and a stable aluminium frame. The material is weatherproof.

Products "Made in Germany"

Within ten years, a loving gift for his own children became a successful family business with several employees, who supply swing fans throughout the world. The swings are predominantly made in Germany. The multi-child swings have been recommended by "spiel gut", a toy assessment organisation.

Designs
All the designs is being made in a small team of professional working people. Special thanks also Daniel Trontelj and Matevž Šmuc that could bring important impulses and good designes into our world of swing models.
The die-schaukel.de team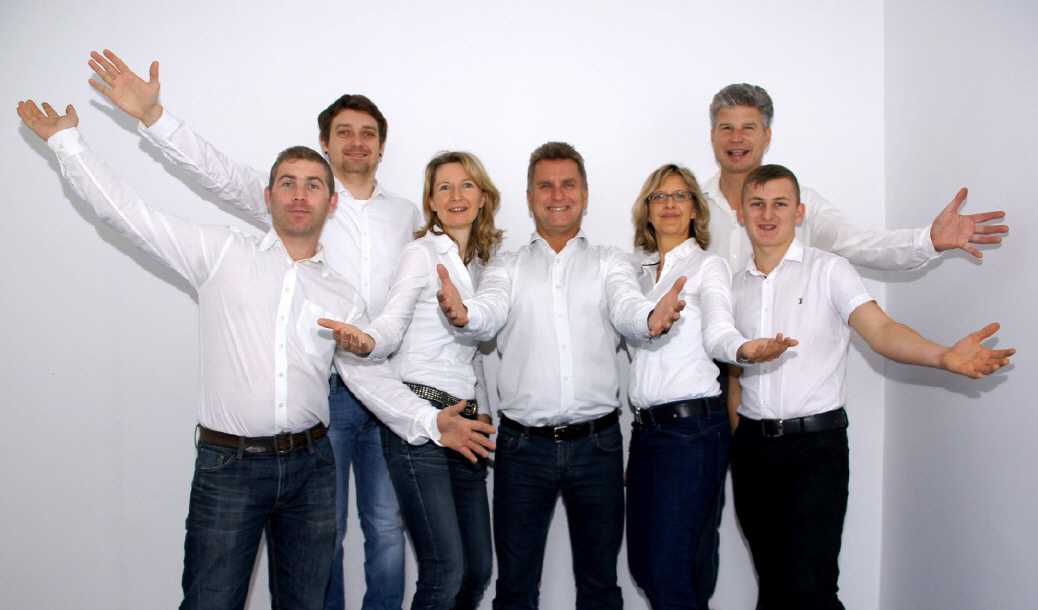 Company director Willy Jörg (middle) with his staff